Professional storage and networking accessory company Sonnet Technologies today announced a pair of solutions for Mac Studio users who are looking to rack mount their machines alongside other components.

The RackMac Studio is a 3U rackmount enclosure measuring 9.5 inches deep that can support a pair of ‌Mac Studio‌ units while preserving access to the front ports and offering front access to a USB-A port and the power button for each machine right from the front of the enclosure. Space beneath the ‌Mac Studio‌ units can also be used to house small peripherals like bus-powered external SSDs. It will be priced at $449.99 and will be available starting the week of October 24.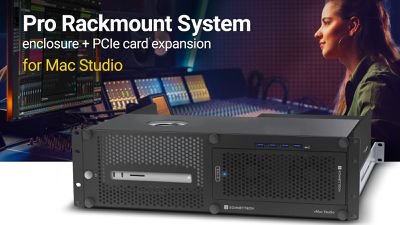 The xMac Studio is a larger enclosure that still measures 3U high but 16.5 inches deep and which can pair a single ‌Mac Studio‌ with Sonnet's Thunderbolt to PCIe card expansion systems. The enclosure is available in three configurations for maximum flexibility: with either an Echo I or Echo III module or without a module in case you want to reuse an existing one. All versions also include a four-port USB-A hub fed from the ‌Mac Studio‌, as well as a front-mounted power button and space underneath for small peripherals.
The Echo I module includes a single x16 PCIe slot for one full-height, full-length card, a single 40Gbps Thunderbolt port, dual fans, and a 400W power supply, while the Echo III module bumps that up to three PCIe slots (one x16 and two x8) and two Thunderbolt ports. The version without an expansion module will be priced at $549.99, while the Echo I version will be priced at $1,249.99 and the Echo III version will be priced at $1,649.99. The xMac Studio systems will begin shipping the week of September 26.
Related Stories
Nearly six months after launch, the Mac Studio continues to face significant delays on Apple's website, with M1 Ultra configurations facing up to a 10-week delay. The baseline Mac Studio with the M1 Max chip is estimated to ship in one to three weeks, depending on specific storage and memory options. Customers looking to get their hands on the more powerful M1 Ultra chip will have to wait at …
Apple today at its "Peek Performance" event announced a new Mac Studio desktop computer with a companion Studio Display monitor. With a 3.7-inch tall enclosure, the Mac Studio looks like a larger Mac mini, but it is far more powerful. The computer can be configured with the same M1 Max chip as found in the 14-inch and 16-inch MacBook Pro or the just-announced M1 Ultra chip, which features a…
Apple today began selling refurbished Mac Studio models for the first time in the United States, Canada, and select European countries, such as Belgium, Germany, Ireland, Spain, Switzerland, the Netherlands, and the United Kingdom. In the United States, two refurbished Mac Studio configurations are currently available, including one with the M1 Max chip (10-core CPU and 24-core GPU) for…
Apple began selling refurbished Mac Studio models last week, but inventory quickly sold out in the United States. For customers who missed out, refurbished Mac Studio models have now been restocked on Apple's online store while supplies last. A wide range of refurbished Mac Studio models with the M1 Max or M1 Ultra chips are available, including custom configurations with upgraded specs….
Four months after Apple released the Studio Display, shipping estimates for the display are finally showing significant improvement in many countries. While the Studio Display was estimated for delivery in 8-10 weeks as of May, and in 6-8 weeks as of June, Apple's online store now shows a much shorter 1-2 week delivery estimate for new orders in the United States. These timeframes apply to…
Apple today unveiled the 27-inch 5K "Studio Display" external monitor, alongside the new, high-end Mac Studio desktop computer. The Studio Display features an all-screen design with narrow borders in a slim, all-aluminium enclosure like the 24-inch iMac. The display can be tiled up to 30 degrees thanks to its built-in stand. To customize the display, customers can choose a more versatile, …
Apple has admitted that customers using the Studio Display may experience audio-related issues, including sound unexpectedly and abruptly cutting out, audio playing at a high speed, distorted audio quality, and choppy playback. In a memo to authorized service providers, obtained by MacRumors, Apple acknowledges that customers may find themselves facing speaker issues with the company's $1599 …
Popular Stories
After over a year of reports about the iPhone 14 lineup, several once-believed rumors are no longer expected to come true when the devices are unveiled this week. The iPhone 14 Pro models are expected to feature the A16 Bionic chip, an always-on display, "pill and hole-punch" cutouts that appear to be a single "pill" in place of the notch, a taller display with thinner bezels, and a 48-megap…
A new charging case for the upcoming second-generation AirPods Pro could feature speaker holes, a microphone, and an opening for a lanyard attachment, according to alleged CAD renders of the case shared by AppleInsider's Andrew O'Hara on Twitter. Alleged CAD of AirPods Pro 2 charging case shared by Andrew O'Hara O'Hara said he could not verify the accuracy of the renders, but they do line up…
Body temperature sensing technology is believed to be the headline upgrade offered by the Apple Watch Series 8 when it debuts at Apple's "Far out" event next week. Thanks to a variety of reports from reliable sources, we have a fairly good idea of how the body temperature health features are expected to work. The Apple Watch Series 6's rear sensor array that introduced blood-oxygen sensing. …
For the first time in several weeks, Apple has repopulated its Refurbished and Clearance store with a range of iPhone 12 mini models, just days before the smaller form factor is expected to be dropped from Apple's flagship smartphone lineup. For the upcoming iPhone 14 series, Apple is believed to be removing the 5.4-inch iPhone "mini" size in favor of larger device dimensions. Available…
Monday September 5, 2022 1:47 pm PDT by Sami Fathi
New images shared on Twitter allegedly showcase upcoming cases from Apple for the iPhone 14 lineup expected to be announced this Wednesday. The images, shared by Majin Bu, include both leather and silicone case options for all the expected iPhone 14 models. While the photos claim to show official cases from Apple, they're most likely fake cases that resemble accurate colors. Apple often…
Sunday September 4, 2022 6:59 am PDT by Sami Fathi
The iPhone 14 Pro and iPhone 14 Pro Max will feature physically larger batteries, according to Bloomberg's Mark Gurman, likely to compensate for the increased power consumption of an always-on display. In his latest Power On newsletter, Gurman says he expects the new iPhone 14 Pro and iPhone 14 Pro Max to feature larger batteries and the devices will, as a result, appear "slightly larger…
#Sonnets #Latest #Enclosures #Rack #Mount #Mac #Studio